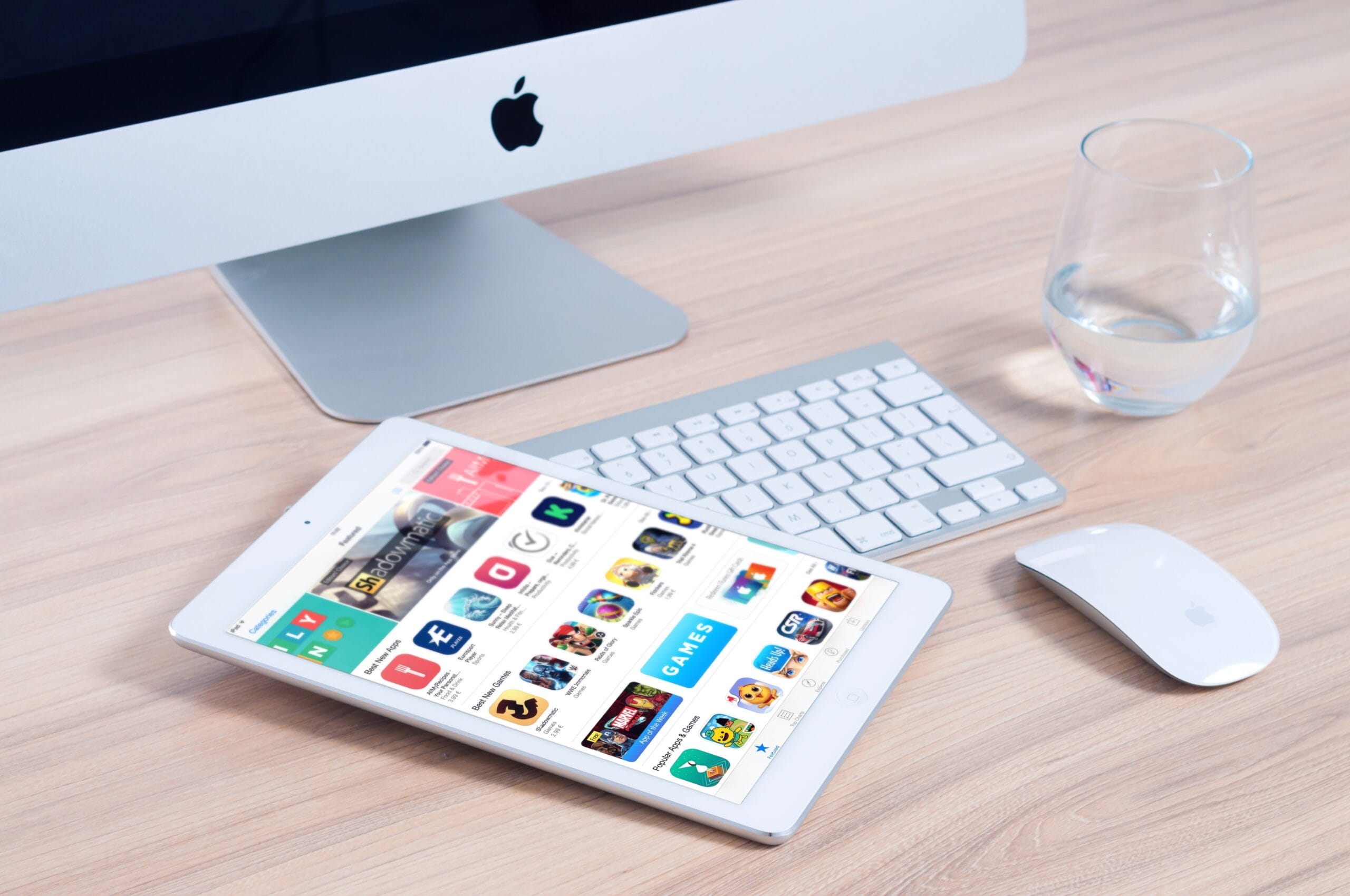 Web design is a critical aspect of any business, and family law is no exception. A well-designed family law website can help establish credibility, provide valuable information, and make it easy for potential clients to contact you.  The Family Lawyer Website Designs should be user-friendly, professional, and reflective of your brand and services.
In this article, Our team of experts at WiseWebPros will explore the key elements of the best family law websites and provide design inspiration to help you create an effective online presence for your practice.
Whether you're starting from scratch or looking to revamp your existing site, the right web design can help you reach new clients and grow your business.
Why a Website is Important for Family Law Attorney
A Family Lawyer Website Designs serves several purposes, including:
Establishing credibility: A professional and well-designed website can help establish your firm as a credible source of legal services.
Providing information: Your website can provide potential clients with information about your services, your team, and the legal process in general. This can help educate potential clients and build trust.
Generating leads: A well-designed website can make it easy for potential clients to contact you, either through a contact form or by phone. By providing clear calls to action and making it easy for people to get in touch, you can generate leads and grow your client base.
Building your brand: Your website is often one of the first impressions that potential clients will have of your firm, so it's important to make sure that it accurately represents your brand and values. A well-designed website can help reinforce your brand and make a lasting impression.
What makes a great family law firm web design?
A great Family Lawyer Website Designs should have several key elements, including:
User-friendly interface: Your website should be easy to navigate, with a clear and intuitive menu structure. This makes it easy for potential clients to find the information they're looking for and helps keep them on your site longer.
Professional appearance: Your website should look professional, with high-quality graphics, images, and typography. The overall look and feel should reflect your brand and values.
Clear messaging: Your website should clearly communicate what your firm does, what sets it apart from other firms, and why potential clients should choose you. This information should be easy to find and clearly presented.
Mobile responsiveness: With more and more people using their smartphones to access the web, it's important to have a website that looks great and functions well on all devices. A mobile-responsive design ensures that your site is accessible and user-friendly on any device.
High-quality content: Your website should feature high-quality, original content that provides value to your target audience. This can include blog posts, case studies, FAQs, and other resources that help educate and inform potential clients.
Calls to action: Your website should clearly state how potential clients can get in touch with you, and make it easy for them to do so. This could include a contact form, phone number, or other means of communication.
10 Best Family Lawyer Website Designs
WiseWebPros List the top websites for a firm lawyer and observe their web designs by yourself.
1. Arami Law Firm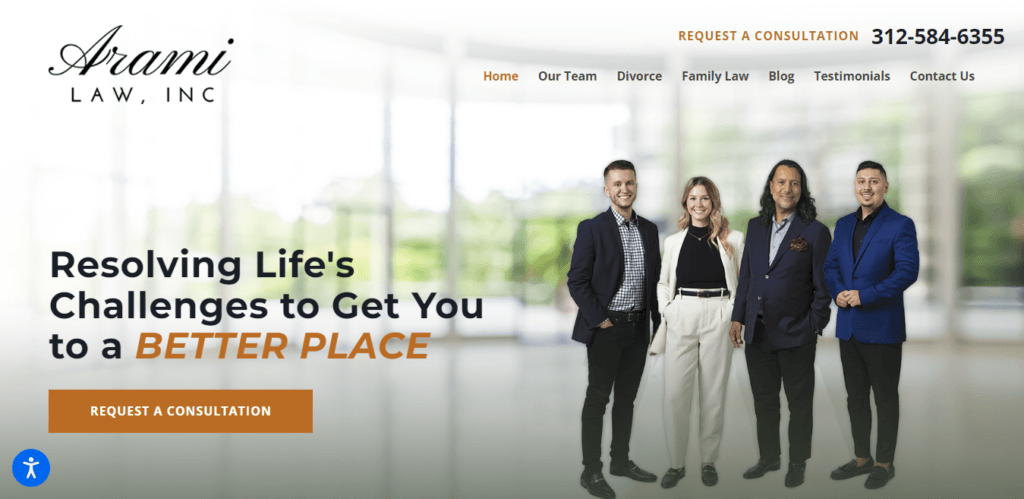 Arami Law is a law firm specializing in various areas of law, including family law, immigration law, personal injury, and workers' compensation.
According to our observation, Arami Law's web design is professional and modern, with a straightforward layout. Mobile responsiveness makes it easy for anybody to view the site on any device. The menu structure is clear and intuitive, with easy-to-find information about the firm's services and team. The home page features a clear call to action, encouraging visitors to schedule a consultation.
2. Helfer Law firm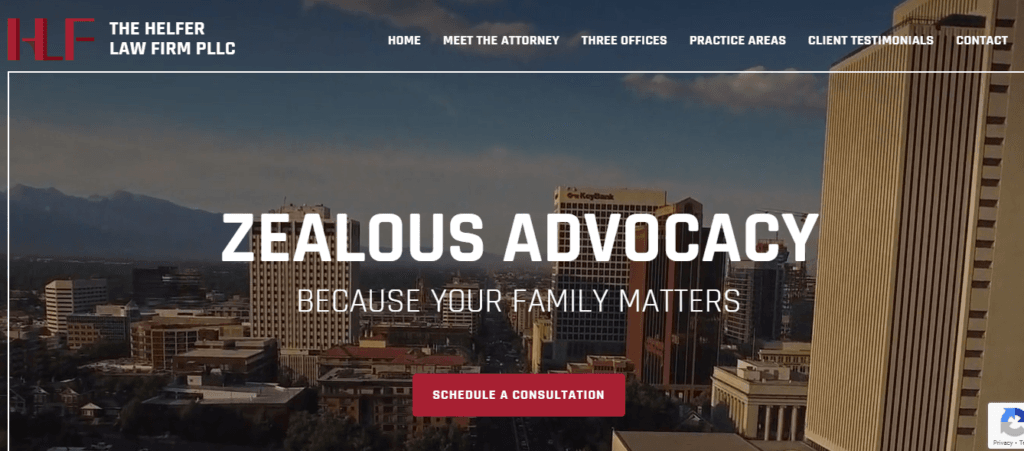 The Helfer Law Firm is a family law firm that provides legal services for various family law issues, including divorce, child custody, and support.
The Helfer Law Firm's website is well designed and provides a great user experience for potential clients. It effectively showcases the firm's expertise and helps visitors easily find the information they need. The site's menu structure is straightforward and easy to navigate, making it simple to find information about the firm's services and team.
3. Law Office JMD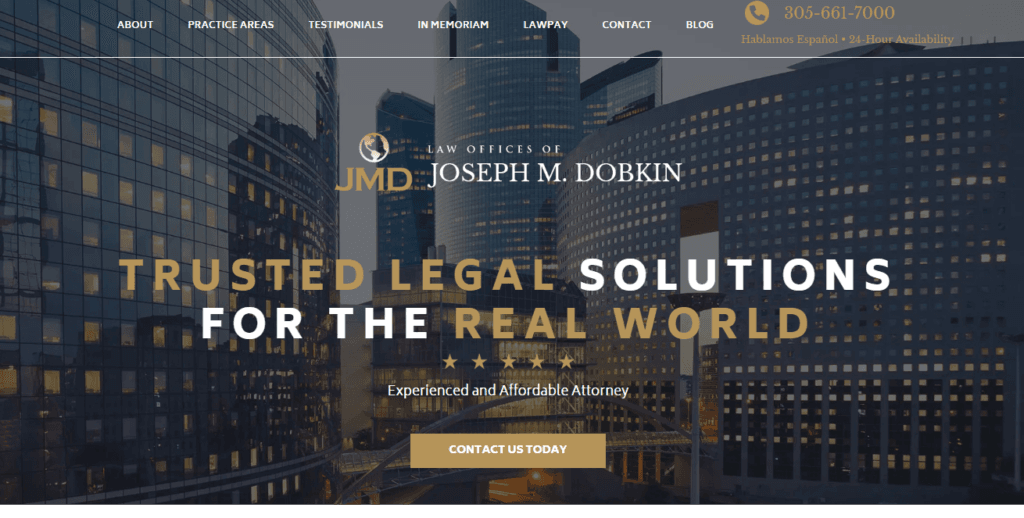 Dobkin Law is a family law firm that provides legal services for a wide range of family law issues, including divorce, child custody, support, and property division.
In our opinion, Dobkin Law's website is a professional and well-designed platform that effectively showcases its legal services. With a clean, organized layout, the website is easy to navigate and find the information you are looking for, while high-quality images and graphics convey the firm's professionalism and expertise.
4. Denver Family Law Firm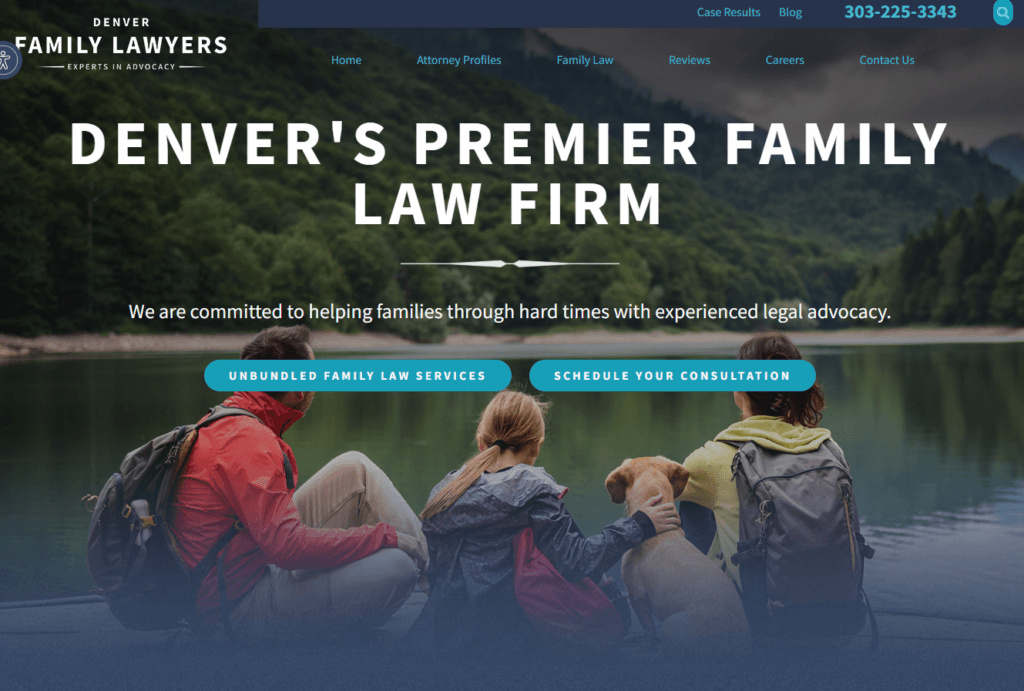 Families Lawyers Denver provides comprehensive legal services for divorce, child custody, support, property division, and more. The firm provides high-quality legal representation to clients in Denver with a team of experienced and dedicated attorneys.
Generally speaking, we found the website of Family Lawyers Denver to be a user-friendly platform that provides valuable information and resources for individuals seeking family law legal assistance. Visitors can easily find information on the website thanks to its modern and stylish design.
5. Jacksonville Divorce Law Firm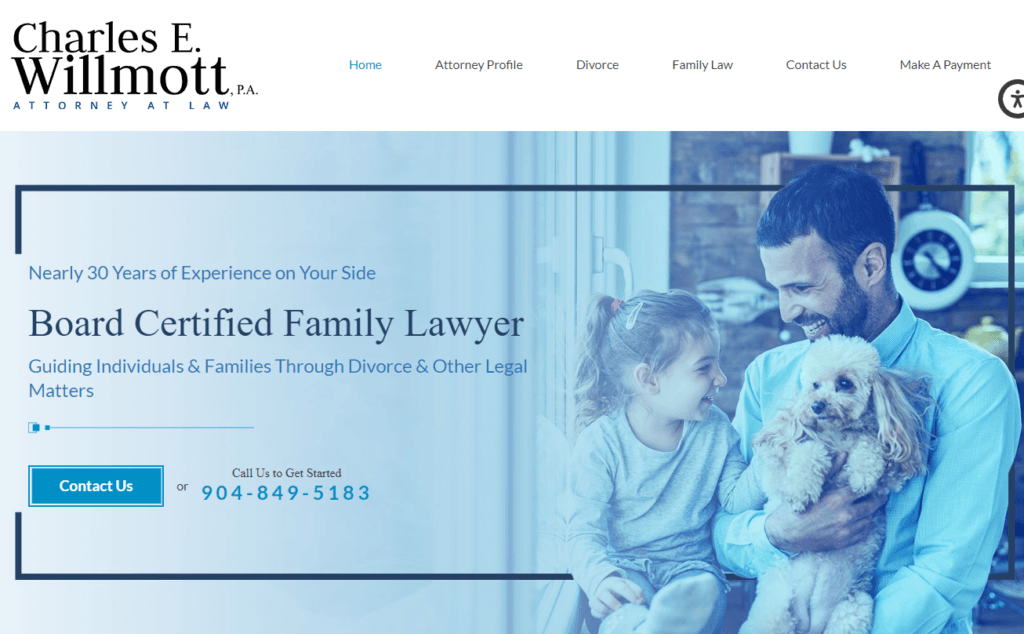 The law firm Jax Divorce is based in Jacksonville, Florida, providing legal services in the areas of divorce, child custody, and child support.
Based on our observations, Jax Divorce's website provides valuable information and resources for those seeking legal assistance in the area of divorce. Its design is clean and modern, focusing on making finding information easy. The homepage provides a quick overview of the firm's services, including divorce, property division, and alimony.
6. Vogel Law Firm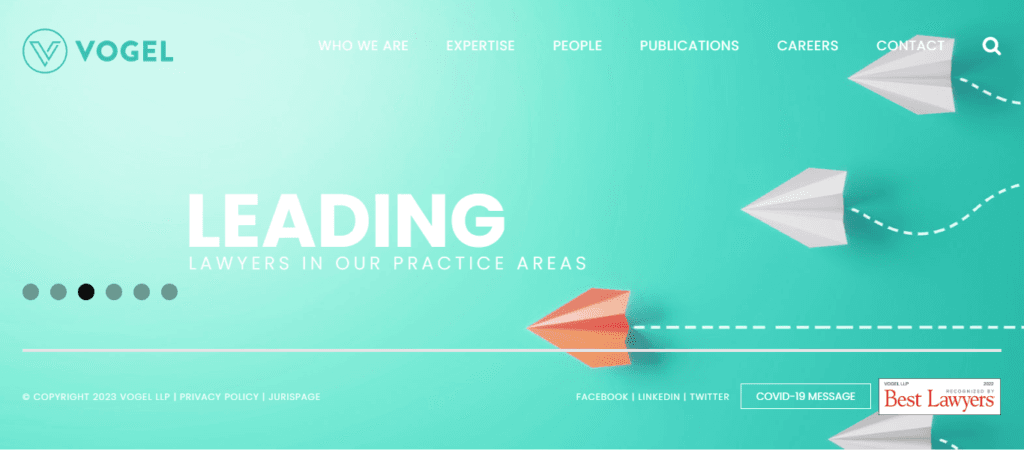 Vogel LLP is a renowned litigation law firm based in Calgary, dedicated to providing exceptional legal services to its clients. The firm's highly skilled and experienced team of lawyers has successfully argued clients' cases in Alberta courts as well as in the Supreme Court.
This website showcases Vogel LLP's services and expertise in a clean and professional manner. There is a clear menu and clear headings on the website that indicate that they have over 200 years of experience in law.
7. Miles Franklin Law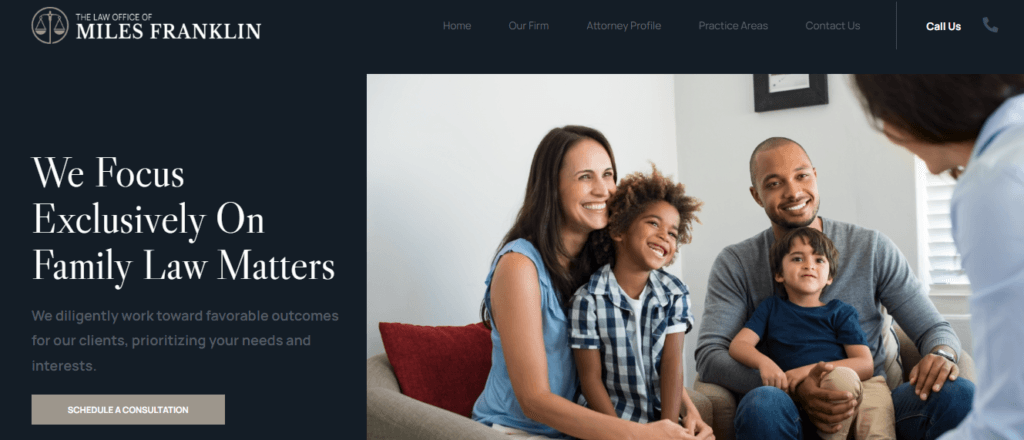 At Miles Franklin Law, they are dedicated to providing a truly client-centered approach to legal services. Unlike larger firms where clients can sometimes feel lost in the crowd, Miles Franklin Law offers personalized and responsive service tailored to each client's unique needs.
This website shows Miles Franklin Law's commitment to client-centered legal services through a modern and professional design. A happy family is shown on the home page, clearly indicating that the firm is a family law firm. The menu is straightforward and the headings are clear. This makes it easy for visitors to quickly find the information they are searching for, such as the firm's services, lawyers, or the latest news.
8. Reneer Law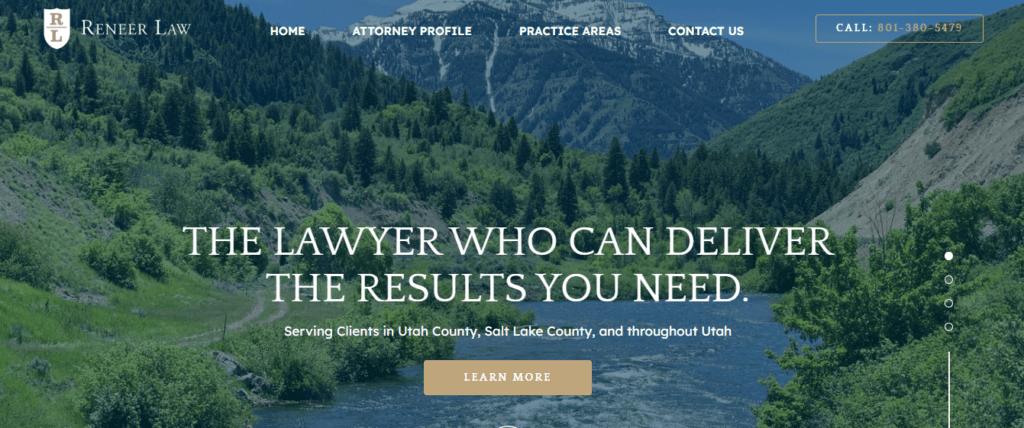 Reneer Law, located in Provo, Utah, is a premier litigation law firm serving clients in the Utah Valley and beyond. Jere Reneer, the firm's founder, has provided exceptional legal services since 1997. At Reneer Law, they handle all the legal details while clients can focus on what truly matters in their lives. With a commitment to quality representation, Reneer Law is the trusted choice for clients in Utah Valley, Salt Lake Valley, and throughout Utah.
A web design consists of a beautiful salt lake mountain view behind text, providing a sense of charm and comfort to visitors. The last component of the site is a beautiful form that allows users to request an appointment with a lawyer.
9. Stanchieri Family Law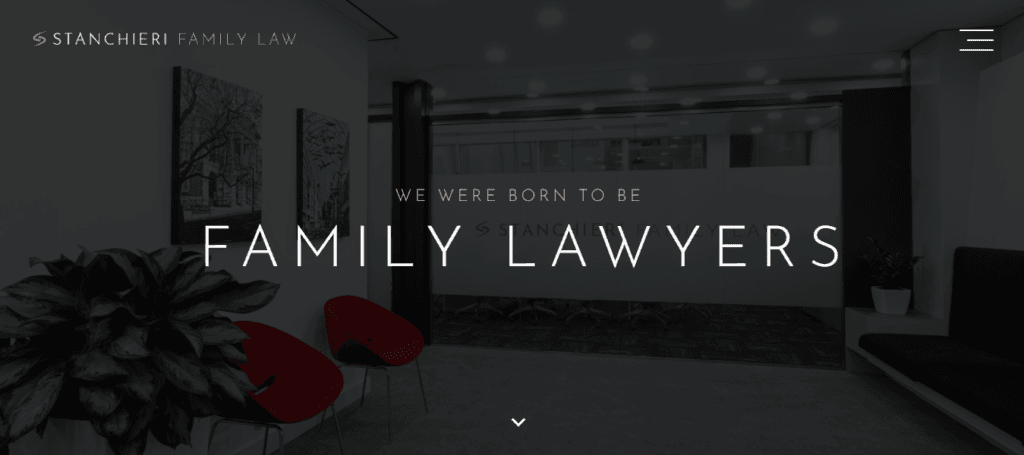 The Stanchieri Family Law Firm is a well-established and highly respected authority in the field of family law in Ontario, Canada. With a track record of success serving over 2,300 clients, their experienced legal team is dedicated to providing the guidance and support you need to achieve the best possible outcome.
Their website shows a beautiful moving and animated image of how their web design looks. They have highlighted their experience and some important legal advice. Their web design clearly shows their methods, budgets, communication and services so that a user can easily find what they're looking for.
10. Anderson Family Law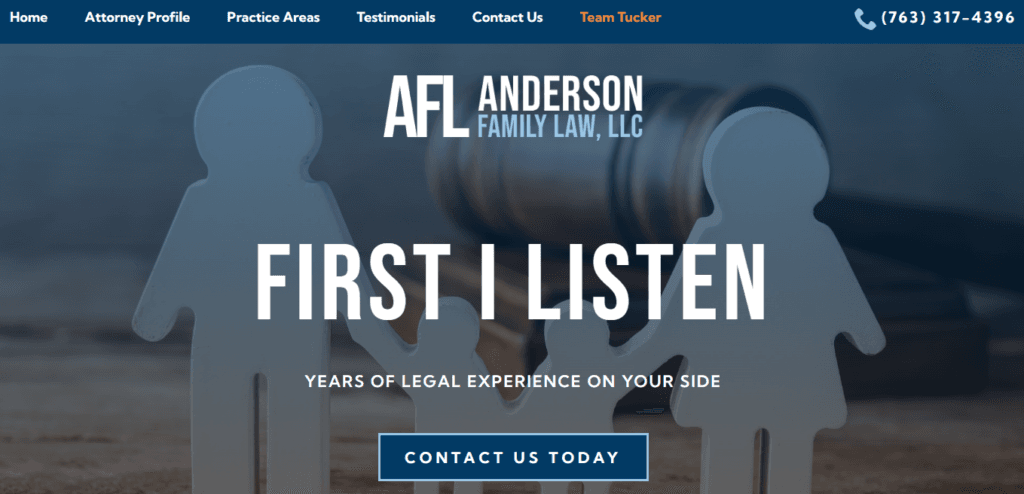 Ryan D. Anderson is a seasoned family law attorney with over two decades of experience in the field.
Anderson Family Law's website is clean, professional, and easy to navigate. Mobile-responsive design ensures a great user experience on any device. It's easy to find information about the firm's services and team on the site, thanks to its clear menu structure. There is a prominent call to action on the home page inviting potential clients to schedule a consultation.