It's no secret that smartphones are everywhere (80% of the world's population uses them), and everything you do depends on them. The mobile commerce market is predicted to reach $432.2 billion by 2022.
Building a website that works flawlessly on all mobile devices should be your top priority. Hence, if you want your online store to take advantage of mobile, you might be searching for the best mobile website builder.
With a right mobile website builder, you can easily optimize your website to work flawlessly across all 6 billion devices – while growing your business.
The following article lists the top contenders that will help you choose the right one. All of the website builders listed below provide mobile-friendly templates, so any of them should work for you.
How do you choose the best mobile website builder?
To build a mobile-friendly website, you must consider certain features when selecting a mobile site builder. To make web development easier in general, we suggest the following:
Beautiful and plenty of templates to start with: Web designers of all levels start with templates, since CSS/HTML allows for more advanced changes, and you'll be able to deliver client projects more quickly.
A responsive design that works and looks good: Every theme developer or website builder promises responsive templates. However, some aren't very good, and others end up being extremely useless. Based on our testing, we have found the best responsive website builders (with great themes) below.
Ease of Use: The website builder should be simple to use for absolute beginners (non-techies). A drag-and-drop builder, powerful editing tools, and other design customization options are essential.
Built-in eCommerce tools: A good site builder should have strong eCommerce tools – especially if you're a web developer. Clients will probably ask about this in the future.
Pricing: Our objective is to determine which website builder offers the best value for the money since it's a competitive market. For example, we ask whether it offers free domains, free SSLs, free business emails, free eCommerce features, etc. If not, how much would a small business owner need to spend on extras and hidden costs?
Customer Support: We expect website builders to offer a user-friendly interface, but we also want 24/7 customer support.
Best Mobile Website Builders for Small Business Websites
Wix is the most popular mobile website builder on the market, offering a wide range of features. Besides being automatically adjusted for mobile viewing, you can also customize your site right from your phone.
Wix is the first name that comes to mind when we think about mobile website builders. It has made many innovations in its website-building system.
Recently, Wix has achieved great success. Currently, they are running 160 million websites. Known for its mesmerizing TV commercials, Wix is among the most popular mobile website builders.
One of the main reasons we like Wix is that the site builder is always being improved. Plus, the pricing is great when you consider how many designs, integrations, and settings are available. If you're looking for speed, professionalism, and many options, Wix is a great place to start.
Let's see if Wix can handle the heavy lifting of a small business website.
Wix Mobile Website Builder Ratings
Capterra: 8992 reviews, 4.4 out of 5
G2: 1521 reviews, 4.2 out of 5
SoftwareAdvice: 8992 reviews, 4.4 out of 5
Wix Strengths and Weaknesses
Wix is a drag-and-drop website builder that offers a great deal of flexibility. Using Wix, you can build a small business website, sell your goods and services online, and accept payments.
No matter if you are a florist in a city neighborhood or a national construction company, Wix has a solution for you.
Among its limitations are the lack of storage space, the ability to change website templates, the absence of analytics, and the lack of SEO tools.
Pros
Wix is one of the most flexible and affordable website builders.
Drag-and-drop editing is available.
With Wix, you can extend the functionality of your website by using the App Market.
The Wix dashboard has a tool called Corvid, which is an advanced platform for developing web apps.
Free templates are available in hundreds
It's free to create and publish a website on the free plan. However, you'll need to upgrade to one of Wix's paid
plans to remove their branding, use your own domain name, and/or sell online.
Wix has outstanding customer support and self-help resources.
Cons
Some plans limit storage space and video minutes.
Launching an online store and building it into something huge is not something you should expect. Although the eCommerce features are great, they are limited.
Once your website goes live, it's impossible to switch templates – rebranding is a challenge!
To scale your website, you may have to use third-party apps
Pricing
The pricing plans at Wix can be divided into two categories; 'website' and 'business and ecommerce'. We've gone over the details below, for your convenience:
Website:
The Free Plan: If you want to test Wix's interface, this is great, but you will be stuck with their branding on your site.
The Combo Package- $13 a month: This eliminates Wix's ads and provides plenty of storage. It helps you create and manage a website that looks professional but is also simple to use.
The Unlimited Plan- $17 a month: Storage is limited to 10 GB.
The Pro Bundle- $22 a month: According to Wix, this is their best value "website" package. This unlocks additional features and more storage (20 GB).
The VIP Plan: $39 a month: Using this plan, website creators will get Wix's most comprehensive suite of tools and features, as well as Wix's most robust customer support.
Ecommerce and Business:
Business Basic- $23 a month: It allows you to accept online payments from customers and is Wix's most basic e-commerce package.
Business Unlimited- $27 a month: You can use this to grow your online business. This is Wix's most popular package for managing and launching digital stores.
Business VIP- $49 a month: With this package, you have access to a complete set of tools. This plan is perfect for scaling your business or dealing with an influx of traffic.
The Enterprise Plan- $500 a month: It is best suited for larger organizations since it is an end-to-end business solution.
Pro Advice: Combo plan is best if you want to build a professional-looking site – it doesn't include Wix ads and lets you link your own domain. To build a more advanced website, the Unlimited plan would be your best option – it has more storage and a site booster app, however, it cannot be used to sell online. You'll need to choose a Business plan if you want eCommerce functionality.
Who is Wix for?
Wix has tons of templates specifically designed for small businesses. Whether it's restaurants, online stores, or artists, there's something for everyone. Wix's App Market is a great place to find plugins to extend the functionality of its themes. Additionally, Wix's templates are all mobile-friendly, making them a smart choice for targeting mobile users.
What makes Wix the best mobile website builder?
Wix is one of the best all-around mobile website builders since you don't have to worry about making your design responsive if you don't have any experience. A wide range of themes are available for mobile devices, and you can customize them to your heart's content using advanced development tools. Moreover, Wix has a large library of apps that are mobile-ready and vetted.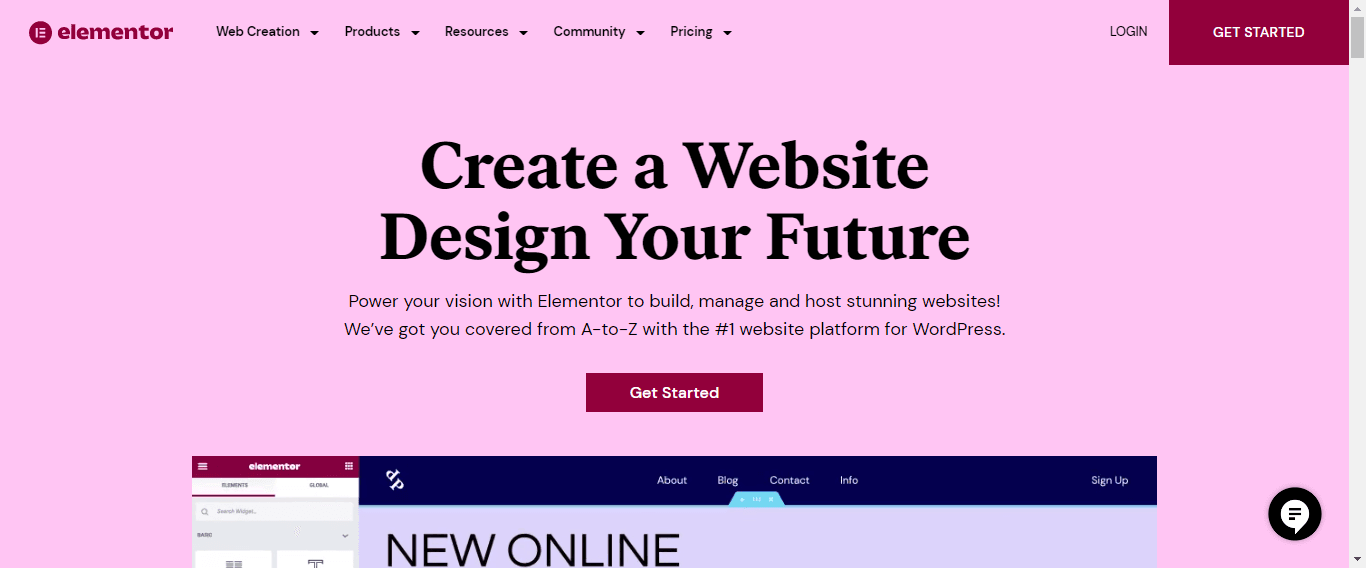 WordPress is one of the most versatile and customizable website builders for small businesses. It is the world's most popular platform for creating websites. There are more than 43% of websites on the internet that are powered by WordPress.
WordPress is a free and open source tool. This means that you have more control over your website than with any other online website builder.
WordPress Website Builder Rating
Capterra: 14112 reviews, 4.6 out of 5
G2: 8,455 reviews, 4.4 out of 5
SoftwareAdvice: 14118 reviews, 4.56 out of 5
WordPress Strengths and Weaknesses
As WordPress is self-hosted, you will need to purchase hosting for your website in order to use it. The platform is highly customizable and open source.
There are hundreds of WordPress themes and templates available for you to choose from. WordPress is criticized for a steep learning curve (which is not the case if you have even a beginner-level familiarity with websites) and a lack of security features.
The WordPress platform is highly customizable, so you can make it more secure by hiring a cybersecurity consultant or by using a security plugin.
Elementor
There are a great deal of WordPress site builders available as mobile website builders. However, Elementor is the most popular. Elementor stands out because of its features.
They offer features such as a free version, integration with WordPress, and drag-and-drop editing. The Elementor builder for WordPress works well with all themes.
It includes excellent tools for lead generation and conversions, as well as modules and settings for customizing any website.
Elementer price
Essential Plan: $49 per year
Expert Plan: $199 per year
Studio Plan: 299 per year
Agency Plan: $999 per year
WooCommerce
Like WordPress, WooCommerce is a powerful platform. It may seem daunting, however, if you're new to web design or ecommerce. Beginners may not know where to begin.
However, as soon as you know how to take advantage of WooCommerce, you'll feel at home. When it comes to starting an e-commerce store rather than simply building a website, it's worth persevering with (because the benefits will undoubtedly outweigh the disadvantages).
Pros
Easily customizable
Scalable to meet the needs of any business
Suitable for blogs, small business websites, etc.
There is a wide range of plugins available to enhance functionality
WordPress gives you greater control over your website.
Elementor's free plugin has 30 modules, which is usually enough for most businesses.
One of the best drag-and-drop editors I've seen.
WooCommerce and popups are also included
Cons
Hosting and security are insufficient
It takes some time to learn
Self-hosted
Higher plans may be too expensive for individuals or companies on a budget.
Website maintenance is required more often
What makes WordPress the best mobile website builder?
Elementor is a popular WordPress plugin that can be used to create mobile-friendly websites for WordPress designers. I typically recommend this to people who want more control over their websites and do not want a rigid site builder.
For an easy, quick way to make a mobile-friendly website, look elsewhere. However, some WordPress themes work well on mobile devices. Don't forget to try everything out on your phone and tablet before you buy.
Why WordPress?
WordPress is easy to use. You can customize it however you like. Using WordPress is cheap if you get a cheap hosting plan, a cheap theme, and a cheap plugin. With some investment, you can make it very secure. The WordPress platform is scalable. You can customize your website as your business grows.
WordPress Pricing
WordPress software is free, you only need to pay for website hosting and themes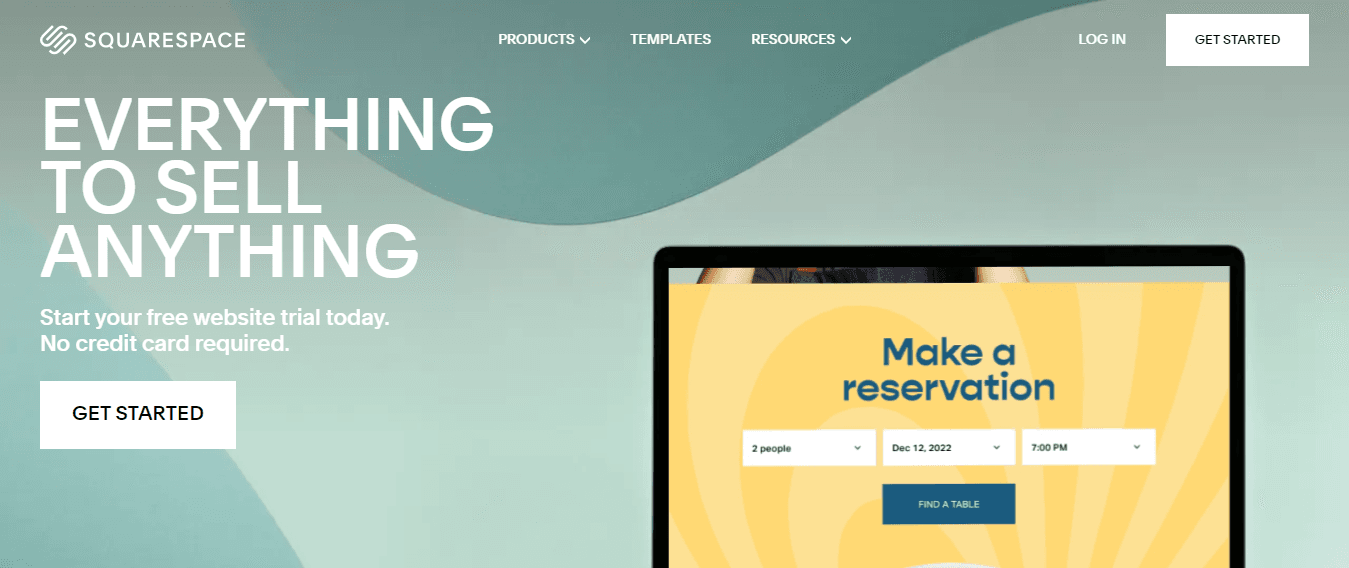 Squarespace's easy-to-use website builder, simple design, and a beginner-friendly interface make it popular among small business owners. For local businesses, Squarespace offers POS software.
In recent years, Squarespace has gained fame as a site builder with stunning templates. When it comes to placing big, high-quality graphics on your site, this is likely your best option.
Squarespace began as a regular website builder, but today provides excellent payment processing and shopping cart features as well. Moreover, Squarespace's pricing is reasonable, and its hosting is excellent.
The company offers over 100 mobile-friendly website templates, all of which can be customized. With its visually pleasing templates and business features, Squarespace stands out from the competition.
You can also use its mobile website builder app for minor changes and tracking business goals. The result is an excellent all-in-one mobile website builder that is perfect for any small business today.
Squarespace Rating 
Capterra: 2533 Reviews, 4.6 /5
SoftwareAdvice: 2533 reviews, 4.57 /5
G2: 1,005 reviews, 4.4 / 5
Squarespace Strengths and Weaknesses
Squarespace filled the gap in terms of website security and constant management. A Squarespace website is secure, and you don't need a full-time webmaster to manage it.
Wix, Squarespace, and Zyro all offer similar drag-and-drop website builders. Squarespace is more scalable than Wix and Zyro, but less scalable than BigCommerce and Shopify. Squarespace's business plan lets you start selling right away.
Pros
Suitable for local small businesses
An easy-to-build, easy-to-use builder
Combines with Square POS solutions for POS
With all e-commerce plans, you can sell unlimited products
Using Squarespace, you can manage multiple sites for your network or clients.
Using templates, integrations, and custom coding, the Developer Program allows you to create fully customized websites.
These templates are highly visual and some of the most modern on the market.
As opposed to installing apps, most of the features you need are already included.
On mobile devices, the templates look great and work well.
With a free SSL certificate, no transaction fees, and unlimited products, the online store tools are quite strong.
A wide selection of design templates is available.
Website security is excellent. You don't need to purchase additional security software.
Cons
Customization is limited
It can be difficult to use the website editor
Due to Squarespace's lack of an app store, your options may be limited.
Although somewhat reasonable, there are better pricing options on this list.
As compared to Wix and Shopify, the backend website building isn't as intuitive.
Pricing
Squarespace provides plans for businesses of all sizes. Start with a personal plan with the fewest options, but with enough features to get you started. These are some of the other plans:
Personal Plan: $16/month
Business Plan: $23/month
Basic Commerce: $27/month
Advanced Commerce: $49/month
Who is Squarespace for?
The Squarespace website builder enables creatives to create their own websites and showcase their work, regardless of their technical ability.
A great website builder for small businesses, local businesses, and professionals like veterinarians, photographers, etc.,
Bloggers will love Squarespace. There are tons of built-in blogging features on this platform, as well as a wide variety of website templates designed specifically for blogging. As their focus is often on visuals, they're good for adding a blog to an online portfolio or uploading lots of images.
There are hundreds of businesses using Squarespace across a variety of industries. From yoga instructors to custom motorbike manufacturers, Squarespace is used by a variety of niches.
Why Squarespace?
If you run a business that sells something and want to have an online presence for it, Squarespace is a great choice. Why? With Squarespace, not only can you create a beautiful, secure, SEO-friendly, and highly converting website, but you can also include a Point of Sale system.
So using Squarespace for your restaurant, snack shop, or barbershop means no other software is required.
What makes Squarespace the best mobile website builder?
Squarespace is a great option for people who want high-resolution photographs that look great on mobile devices.
Squarespace is a super popular website builder with its clean, contemporary, and gorgeous mobile-friendly templates. Among these templates are templates for blogs, eCommerce, small business websites, and more.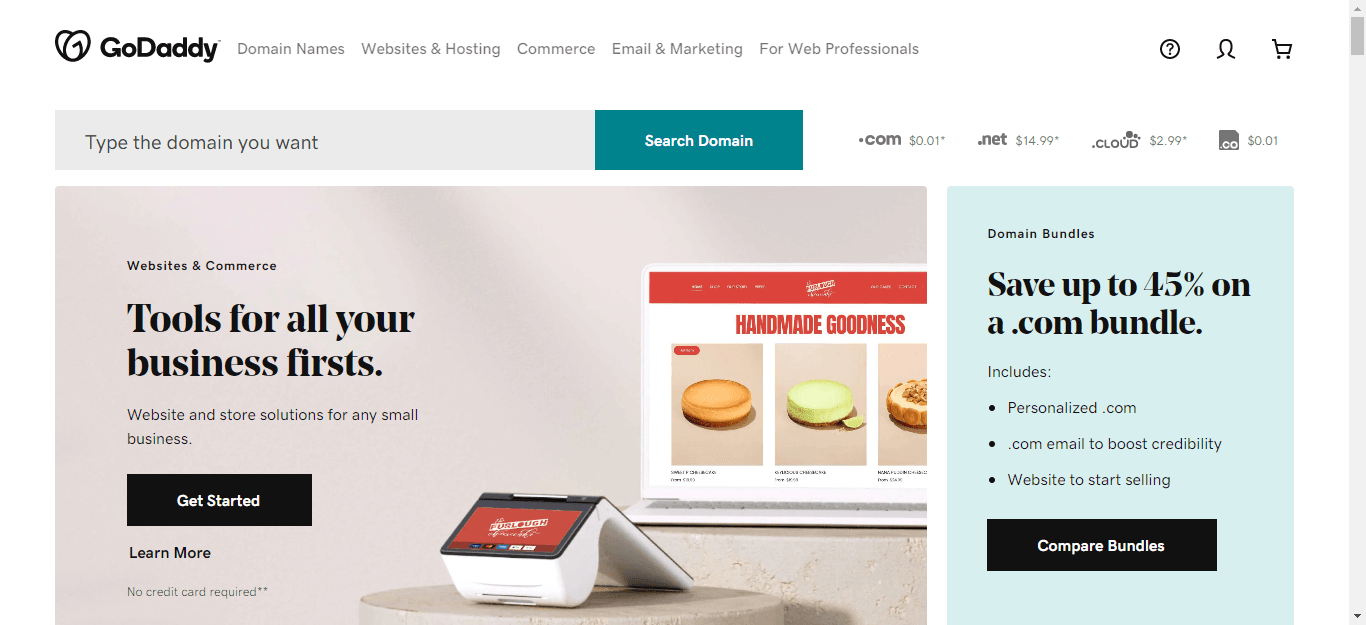 The GoDaddy mobile website builder is a great option for small businesses and brick-and-mortar companies looking to go online.
It is renowned for its registration and hosting services. Despite the best efforts, all the elements of GoDaddy aren't ideal and aren't a suitable track. Its shortcomings are the cause of this lack in parts.
The GoDaddy website builder belongs to the hosting-cum-website builder software family; similar services include Hostgator website builder and Kinsta WP Page Builder.
GoDaddy Website Builder Ratings
Capterra: 1047 reviews, 4.2 out of 5

G2: 769 reviews, 3.9 out of 5

SoftwareAdvice: 1047 reviews, 4.16 out of 5
GoDaddy Strengths and Weaknesses
GoDaddy is a domain-selling and hosting company. It has branched out into website building and email marketing.  GoDaddy's website builder offer drag-and-drop service, but it has limited design options.
GoDaddy's website builder is user-friendly for beginners and small businesses. Most businesses use it for corporate websites, but you can also sell your products or services through it.
We can manage all the website's features effortlessly. Designs are advanced and updated, which makes them visually appealing.
Pros
Prices are low
User-friendly
Friendly to small businesses
If your domain is registered with GoDaddy, it works perfectly
Provide a beginner-friendly environment for clients
Providing social media and website integration
Cons
It is not suitable for high-selling e-commerce stores
Don't allow direct changes to the mobile version
Website customization restrictions
There is a region restriction on the mobile app
Pricing
The GoDaddy mobile app is free, but you must choose a website builder plan to create a website. One free plan and four premium plans are available from GoDaddy:
$6.99/month Basic plan
$13.99/month Premium plan
$14.99/month Commerce
 $29.99/month Commerce Plus plan
GoDaddy's Free plan is very limited and is only suitable for testing. Choosing the Basic plan is a good choice if you want to create a simple personal website. However, if you want to sell online, you'll need to upgrade to the Ecommerce plan.
All in all, GoDaddy's mobile website builder offers practical optimization and rich business integration.
Who is GoDaddy for?
Blogs, small businesses, portfolio websites, e-commerce sites, and small blogs can all benefit from GoDaddy.
Why GoDaddy website builder?
GoDaddy is the cost-effective way to get online after buying your domain from them.
What makes GoDaddy the best mobile website builder?
Using GoDaddy's Website Builder, you can create an attractive, mobile-friendly website in just 90 minutes.
GoDaddy offers its customers a mobile-friendly website builder called Websites + Marketing. With its rich business features, the builder is very popular, especially among small businesses. The majority of these features are mobile-optimized and accessible via mobile devices.
When you edit your GoDaddy site, you can also switch between device views. You can test how your site looks on different devices here. This should make your mobile visitors more comfortable while viewing.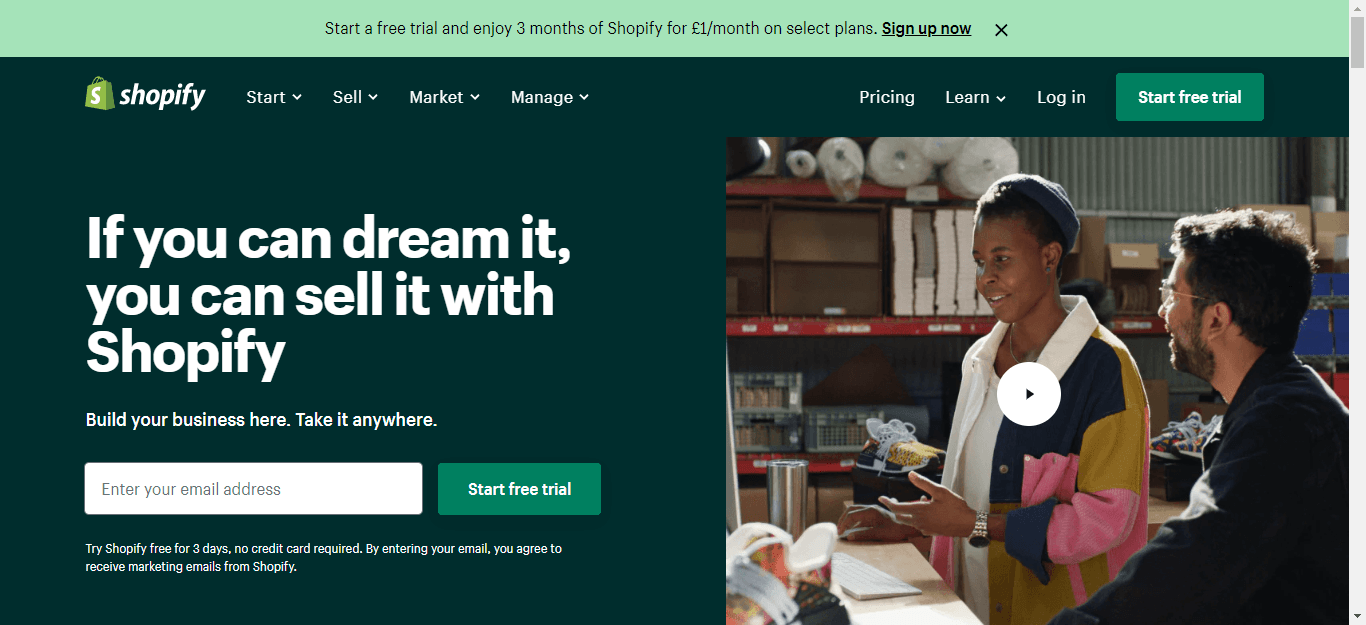 Shopify is a reputable e-commerce platform. Making an online store is easy with Shopify. The entire website builder is made to help you construct eCommerce stores, not informational business websites.
Shopify is definitely one of the most popular options for setting up an online store thanks to its extensive app store, great themes, and easy builder. Pricing options are also excellent for customers.
Shopify Ratings
G2: 4,149 reviews, 4.4 /5 rating
SoftwareAdvice: 5764 reviews. 4.54 /5 rating
Capterra: 5768 reviews, 4.5 /5 rating
Shopify Strengths and Weaknesses
Shopify helps entrepreneurs sell goods online. There is a great interface, a shopping cart, a payment system, and customization capabilities.
Shopify is a secure platform that is suitable for all levels of online sellers. While Shopify has limited basic functionality, it has a diverse and vast app library.
Using Shopify, you can create a store yourself.
You may need to pay more than what you see for the monthly subscription cost to run a Shopify store. A transaction fee will be charged for every sale you make, as well as third-party apps if you wish to increase functionality.
Pros
Suitable for both small and large retailers
You can sell on your site as well as on eBay and Amazon, which are eCommerce marketplaces
Various free and paid templates for good-looking, converting websites
A complete e-commerce solution including payment processing
Shopify integrates with several social networks, including Facebook Ads.
When compared with other store builders, the pricing is reasonable.
With access to the app store, you can download a wide variety of apps.
It offers some of the best customer support in the business, both in terms of resources and dedicated support.
Cons
It takes some time to learn
Third-party app costs extra
The Shopify platform isn't designed for regular business websites.
As you upgrade, the price goes up rapidly.
A transaction fee applies to third-party payment gateways.
Depending on your needs, you may need a web developer familiar with Shopify's coding language.
Pricing
Shopify offers packages for small and large businesses. For $9 per month, the Lit Plan allows you to sell on social media. Shopify offers other pricing plans.
Shopify Basic: $29/month (and 2.9% + 30¢ per transaction).
Shopify: $79/month (and 2.6% + 30¢ per transaction).
Advanced Shopify: $299/month (and 2.4% + 30¢ per transaction).
Shopify Plus – Starting at $2,000 per month
Who is Shopify for?
If you're serious about ecommerce, Shopify is for you. The platform provides everything you need to get started, and it's easy to scale. Shopify delivers a wide range of features, a huge App store, and a variety of subscription plans, making it an accessible and scalable ecommerce platform.Whether you're a small business serving your neighborhood or a large corporation serving the world, Shopify can run an online store for you.
Why Shopify?
Shopify makes launching an online store quick and easy without the hassle of servers and web development costs associated with self-hosted platforms such as Magento.
Due to its logical structure, all features are logically arranged and the admin interface is clean and user-friendly. With its all-in-one suite, it is a small business-friendly platform. Shopify has everything you need for your business, from registering a domain name to processing payments. Plus, Shopify's Lite Plan costs just $9 a month.
What makes Shopify the best mobile website builder?
Shopify provides a seamless mobile user experience, so if you are creating an online store with Shopify, you are in luck. Shopify has mobile-friendly themes, mobile checkouts, and mobile stores among its mobile-friendly features.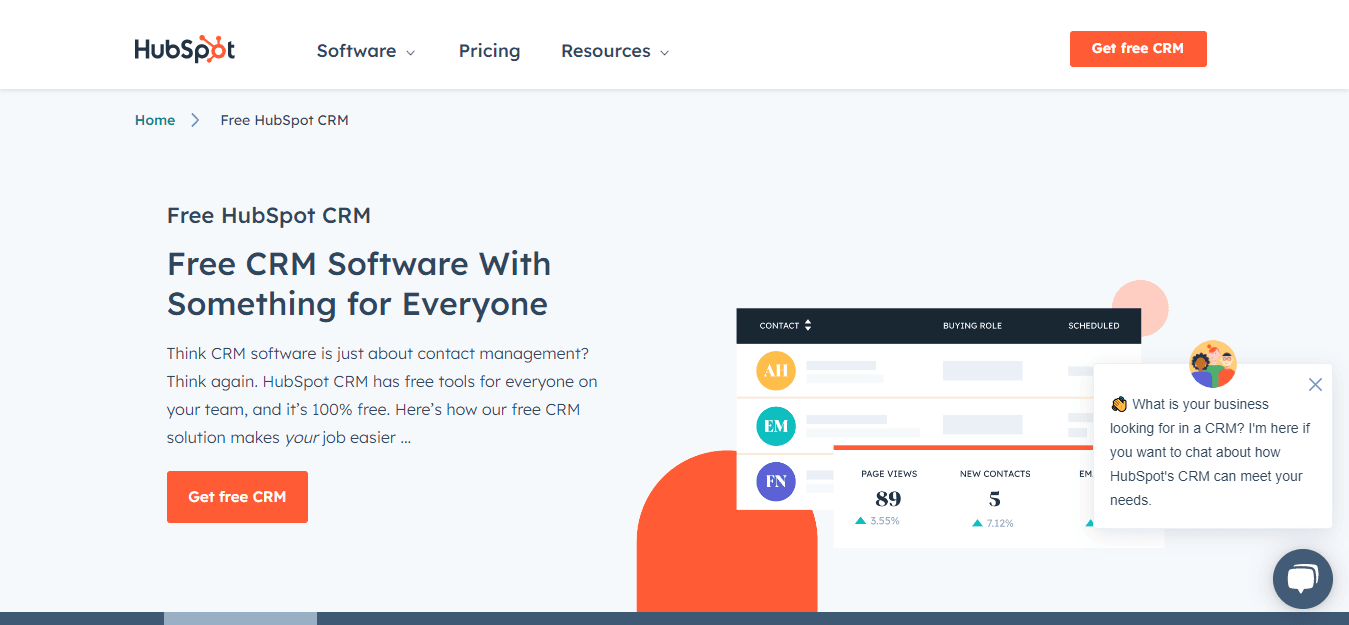 HubSpot is a marketing tool. HubSpot small business website builder is perfect for creating a website that'll capture leads and convert visitors.
The HubSpot CRM platform consists of five different products (or "hubs") that help you create better customer experiences. The website builder is one of these products.
As with all HubSpot products, the website builder is intuitive and optimized to offer your visitors the best experience.
HubSpot Website Builder Ratings 
SoftwareAdvice: 62 reviews, 4.65 out of 5
G2: 1364 reviews, 4.5 out of 5
Capterra: 62 reviews, 4.6 out of 5
HubSpot Website Builder Strengths and Weaknesses
Like any great website builder, HubSpot offers drag-and-drop website design. All you need is a little design sense and some common sense to build a great-looking, highly-converting website with HubSpot.
In case your website needs to be customized a lot, you'll need to hire a web developer. HubSpot has its own programming language called HubL. As this is not a common programming language, skilled developers are hard to find.
HubSpot is expensive. It is not suitable for small businesses due to the price structure. Below is a brief overview of HubSpot's pricing.
Who is the HubSpot website builder for?
The HubSpot website builder is designed for marketers. You can perfectly optimize a visitor's conversion journey. It's hard to ignore HubSpot's newsletter after visiting their website. It's the same for HubSpot's website builders.
The HubSpot software is suitable for medium to large businesses with sufficient marketing resources.
As it is built on top of the CRM, it makes connecting your site to your sales, marketing, and customer service operations a breeze. All your information is in one place, giving you full visibility across your teams and individuals.
Why HubSpot website builder?
If you want your website to generate leads and customers, try HubSpot website builder.
To achieve the same functionality with WordPress, you'll need to understand marketing and WordPress plugins. In other words, HubSpot's website builder is perfect for non-technical marketers.
Pros
An easy-to-use website builder
Designed to get leads and customers from your website
HubSpot's software is extremely easy to use and requires no technical knowledge to operate
With HubSpot CRM, you can build a deeply optimized and personalized conversion funnel where you can gather all kinds of information about your customers.
An integrated blog and SEO recommendations make it easy to optimize your pages and content
Hundreds of mobile-optimized website themes are available on the HubSpot marketplace
If you are more technical, you can make your site even more unique with custom themes and commands.
It comes with built-in security features, including a global CDN and Web Application Firewall, which means you don't need to maintain additional plugins
Cons
Very expensive
Customization is limited
It is not suitable for small businesses
There is no free version, but HubSpot's website builder offers a free trial. Complex websites can add up quickly in terms of costs.
The HubSpot software is not designed specifically for ecommerce, so you may need to use third-party integrations.
HubSpot Mobile Website Builder: Pricing
You can test out HubSpot for 14 days for free. Following that, you can choose from three different plans:
Starter- $23 per month: A fully functioning website can be set up and you can take advantage of HubSpot's entire business toolkit for free.
Professional- $360 per month: With this plan, you can create truly personalized experiences for your customers and expand your content marketing efforts.
Enterprise- $1,200 per month: Designed for large, growing companies with complex teams and needs,.